---
Information
Store
Talk Recordings
Please note: MP3 and MP4 recordings listed in this section are downloads only. No physical media (CD/DVD) is shipped. After the order is placed, a download link will appear within the order confirmation screen & order confirmation email. If you require any assistance, please contact the Admin Centre on 02 9747 4780 or email.
Shopping Cart
0 items
Total: $0
---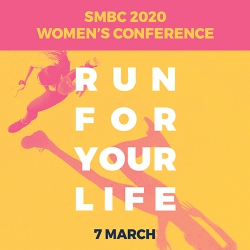 Run for your Life
SMBC 2020 Women's Conference
Anyone can line up at the start of a marathon but it's the finishers who receive the prize. Running 40kms and then sitting in a deck chair doesn't count. Watching others compete on TV doesn't count. Reading 'Runners World' magazine doesn't count. With heart pounding, muscles burning and joints jarring you have to keep putting one foot in front of the other until the finish tape. You have to persevere ... 20, 30, 40, 41, 42kms.
The writer to the Hebrews wants his hearers to finish the race, to inherit all that God has promised. His letter teaches and encourages us to be finishers. He does it not merely with top tips for a training routine, or a motivational talk to spur us on to an 'I think I can, I think I can' gritted teeth determination – but by pointing us to Jesus who has finished and is urging us to run with Him.
Whether you're at the start, nearing the end or somewhere in the middle miles, hearing God speak in Hebrews will help you run for your life...
Hebrews 1:1-2:4 - The Superior Son has spoken, so stay sharp!
Rachel Ciano
Hebrews 6:9-7:24 - Hope to finish the race
Janet Riley
Hebrews 12:14-29 - Unshakeable!
Clare Deeves