---
Information
Store
Talk Recordings
Please note: MP3 and MP4 recordings listed in this section are downloads only. No physical media (CD/DVD) is shipped. After the order is placed, a download link will appear within the order confirmation screen & order confirmation email. If you require any assistance, please contact the Admin Centre on 02 9747 4780 or email.
Shopping Cart
0 items
Total: $0
---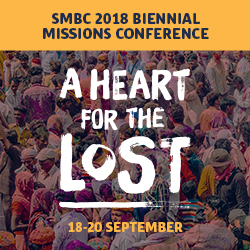 A Heart for the Lost
SMBC 2018 Biennial Missions Conference
More than a billion people still have no access to the gospel. About a quarter of the world's people groups have no church and no active Christian witness. They are lost, "without hope and without God" (Eph 2:12).
Their lostness is not a result of having rejected the good news of salvation in Christ. They have never heard the gospel, and there is currently no way for them to hear the gospel or see it lived out. They do not know any Christians or anyone who knows a Christian. There are simply no churches in their neighbourhoods or towns that speak their language. This is the case, for example, for tens of millions of Pashtun in Pakistan and Afghanistan, for most of the world's seven million Tibetans, and for hundreds of millions of people from unreached Hindu groups in India.
The challenge of taking the gospel to these lost people who currently have no access to the gospel is huge - overwhelming even. But to ignore the lost is to ignore God's heart, his love for the lost. No matter where he has placed us, or what ministry he has given us, we have a role in God's mission. He has called us to make his love and power known everywhere so that people from every single tribe and language are brought into his family through Christ.
Isaiah 43-45 - God and the Nations
Tim Chester
Isaiah 49 - Christ and the Nations
Tim Chester
Isaiah 60 - Culture and the Nations
Tim Chester
Isaiah 58 - Justice and the Nations
Tim Chester
Isaiah 63-64 - Prayer and the Nations
Tim Chester
Isaiah 28 - Grace and the Nations
Tim Chester
Following Jesus to reach the unreached
Byung-Kook Yoo
Strategising for breakthroughs among the unreached
Byung-Kook Yoo
Isaiah 43-45 - God and the Nations
Tim Chester
Isaiah 49 - Christ and the Nations
Tim Chester
Isaiah 60 - Culture and the Nations
Tim Chester
Isaiah 58 - Justice and the Nations
Tim Chester
Isaiah 63-64 - Prayer and the Nations
Tim Chester
Isaiah 28 - Grace and the Nations
Tim Chester
Following Jesus to reach the unreached
Byung-Kook Yoo
Strategising for breakthroughs among the unreached
Byung-Kook Yoo