---
Information
Store
Talk Recordings
Please note: MP3 and MP4 recordings listed in this section are downloads only. No physical media (CD/DVD) is shipped. After the order is placed, a download link will appear within the order confirmation screen & order confirmation email. If you require any assistance, please contact the Admin Centre on 02 9747 4780 or email.
Shopping Cart
0 items
Total: $0
---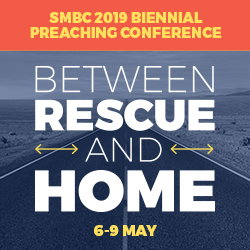 Between Rescue and Home
SMBC 2019 Biennial Preaching Conference
Between judgement and salvation. Between promise and fulfillment. Between rescue and home.
That's where we are.
On the edge of the promised land, God's people are called to choose life and walk in obedience.
It's a call to discipleship – to love God with all their heart and soul and strength.
This conference explored the powerful relevance of the Book of Deuteronomy for our churches today.
Deuteronomy 1-3
Matt Fuller
Why Worship Matters: The Constant Lure of Idolatry
Peter Lau
Israel's God in Deuteronomy
Paul Barker
Responding to Dawkins: Holy War in Deuteronomy
Kirk Patston
Deuteronomy 6:4-25
David Jones
Deuteronomy 7:1-26
David Jones
Use of Deuteronomy in the New Testament
Kirk Patston
Sin in Deuteronomy: 'Purging the Evil from Among You'
Paul Barker
Preaching the Decalogue for Today's Church
Matt Fuller
Deuteronomy 16:18-18:21
Kirk Patston
Deuteronomy 23:15-25:19
Matt Fuller
Five Pastoral Reasons for Preaching Deuteronomy
David Jones
Grace and Obedience
Kirk Patston
Discipleship: Living in God's Presence
Matt Fuller
Deuteronomy 27:1-28:68
David Jones
Deuteronomy 31:30-32:47
Matt Fuller
The Priority of Mission in Deuteronomy
Kirk Patston